Oct 1, 2023
Patch Notes - v0.5.1
---
Introducing the Desert - a whole new biome with exotic creatures and new items & mechanics.
Also included is a new melee skill "Warrapt", an overhaul to the Chivalry skill, and changes to character creation.
Save files from v0.5.0 are NOT compatible.
Desert Biome
This new biome is teeming with danger, with predatory Wyrms and Scorpions lurking beneath the sands.
Staying safe requires strategically navigating between the smaller rocky islands amid a vast ocean of sand.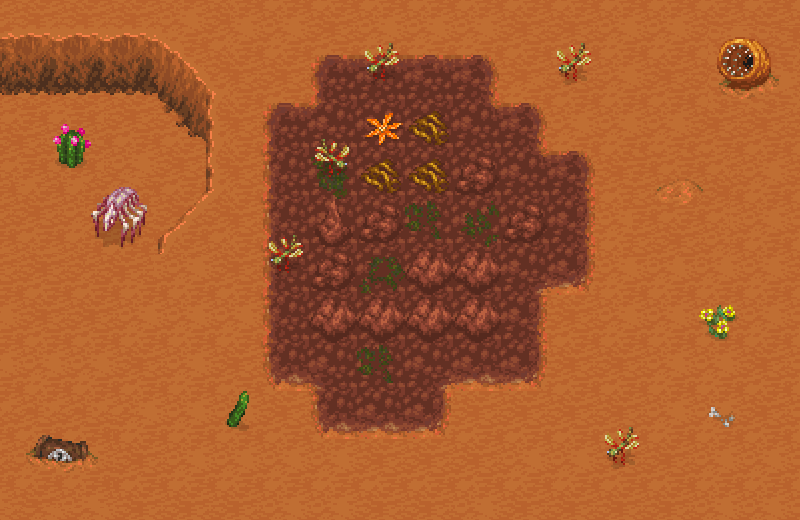 Map Generation
The world map generates with at least one expansive desert region, interspersed with smaller desert patches.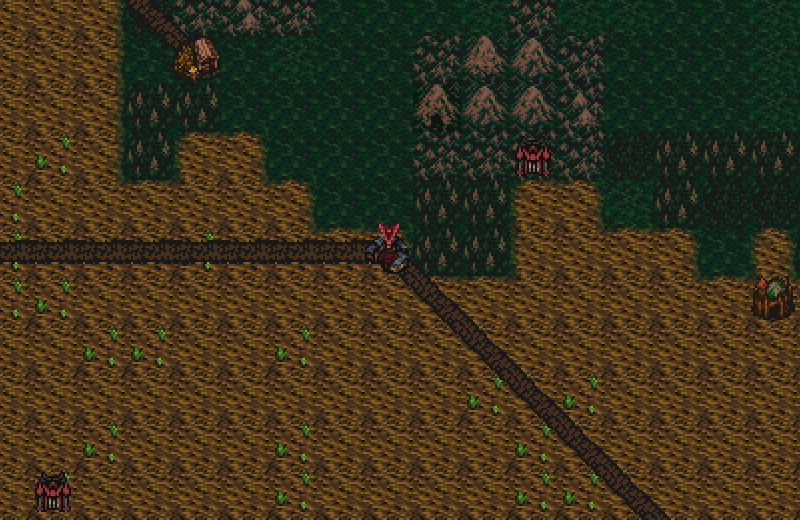 The Desert Dwellers
The desert is now home to seven new creatures: Sand Wyrm, Dune Flyer, Silt Strider, Sandscale Viper, Sandshell Prowler, Sandshell Titan, and Desert Scorpion.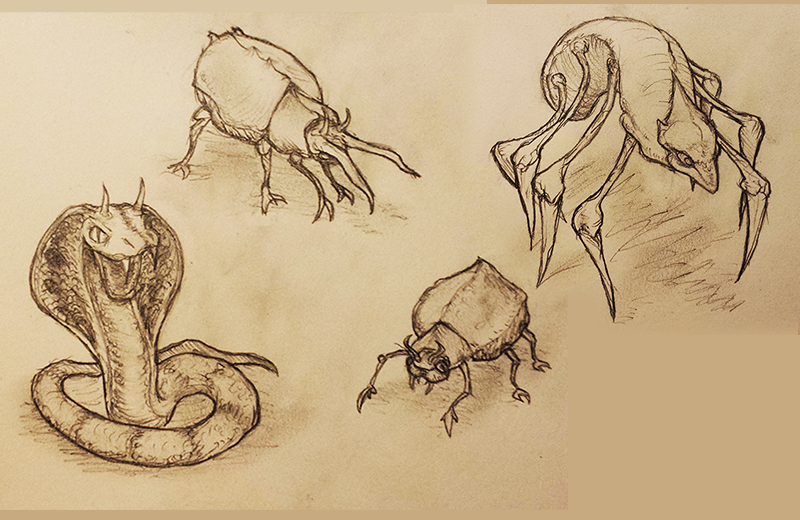 Surviving the Heat
Be wary of accumulating "Sunscorched" wounds, which can be cured by consuming cactus fruit, or through a medicine item. Sunscorch accumulates as you traverse the scorching desert but dissipates quickly in cooler biomes..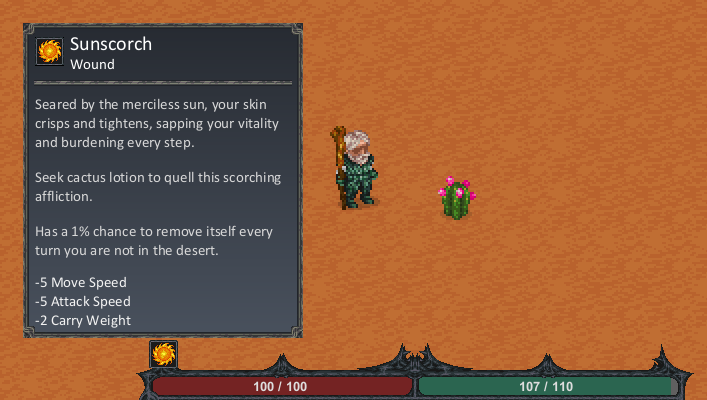 Plants & Potions:
Four new harvestable plants can be used to brew five newly-added potions: Bulwark Extract, Fireflash, Sunhorn Elixir, Dalaar Deflection, and Blossomguard Brew.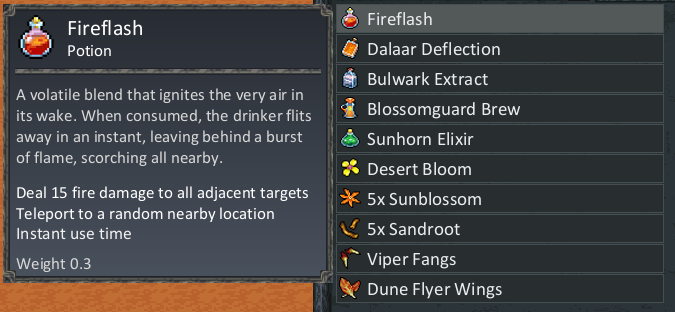 Warrapt
We've added a new skill "Warrapt", which includes 20 new abilities and passives.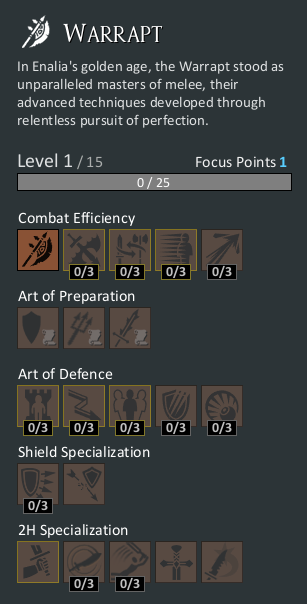 Designed as a generalist melee skill, Warrapt synergizes well with all melee weapon types and offers new build paths with both defensive and offensive options.
The skill is available for all background types.
Chivalry
Chivalry has received a significant update, featuring new abilities, upgrades, and a unique "Oaths" mechanic.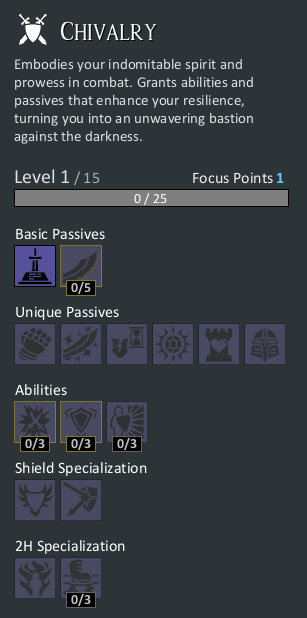 Added abilities: "Oath of the Fallen," "Vanguard's Edge," "Last Stand," "Otherworldly Protection," and "Knight's Challenge."
Removed "Shield Bash", "Parry", and "Riposte", which are now included in the Warrapt skill.
The Knight now starts with the item "Letter to a Fellow Knight," directing players to the nearest Altar of Ahnais.
As part of this change we've refined the Knight's background lore for better coherence with the game world, removing all references to Arthurian knighthood—no more 'Sirs,' Squires, or medieval titles. Instead, Knights are now envisioned as defenders of good, intrinsically linked to an ancient order called the Knights of Ahnais (more to be revealed as we progress on the main story and add Knight NPCs to the game world).
Altar of Ahnais
Forests, Plains, and Deserts now have a chance to spawn an Altar of Ahnais.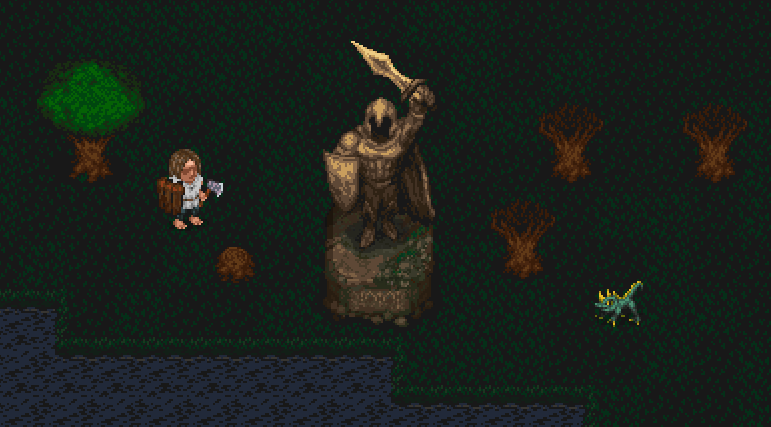 These Altars are closely related to the new "Oaths" mechanic in Chivalry. By slaying beasts, the Knight can collect "Oaths of the Fallen," which may be offered at the Altar for rewards.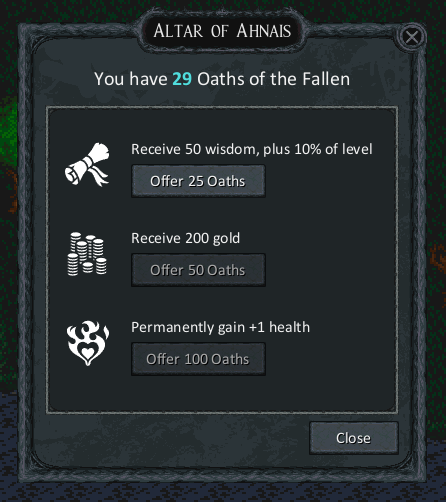 This Altar is the first of many special map features to come. We imagine a world filled with relics and altars, each offering unique effects or services, relating to specific guilds, quests, and world lore.
While currently only usable by the Knight, future updates will introduce a secondary effect to the Altar of Ahnais, accessible by all classes.
Character Creation
Starting items are now shown as part of character creation, and can be rerolled an unlimited times.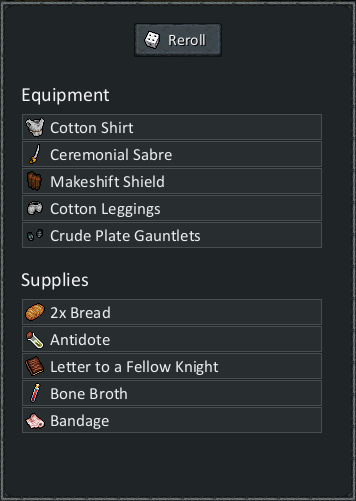 Other Changes
Added new music for Character Creation.
Updated the UI to better match in-game art.
Warding
We've introduced three new stats: Physical Warding, Mental Warding, and Magic Warding.

Physical Warding offers a percentage chance to negate physical-based debuffs like temporary poisons or blindness during combat.
Mental Warding provides a chance to shrug off mental-based impairments such as shouts or fears.
Magic Warding protects against magic-based negative status effects, including hexes.
Added +5% physical warding to the knowledge ability "Stoic Perspective".
Added new knowledge abilities "Astral Repel" (requires a book to unlock), and "Bodily Sutra" which both reward warding.
Added 2 new enchantments "Mindmeld", "Stalwart", which give warding.
Added a physical warding bonus to the enchantment "Resilience".
In addition to the aforementioned enchantments and Knowledge abilities, these new warding stats have been included in abilities within both Chivalry and Warrapt.
We recognized a gap in the combat system—players had no way to defend against various debuffs that didn't qualify as wounds. These warding stats aim to address this.
Ability Time
All activated abilities now show their use time in the tooltip.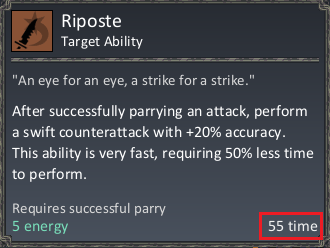 Since several passives now give increased ability speed, it felt right to show the exact time cost on all ability icons which can be seen on the bottom right.
As part of this change we've standardized how ability activation speed works, going through all abilities and specifying how their speed works in a more precise way. Note that some abilities are based on the speed of your equipped weapon, while others like 'Reload' or 'Mark Prey' have their own intrinsic.
Other Changes
Added new option "Log Weapon Used". Enable this option to show details of the weapons used by both the player and enemy units in the text log.
Added 3 new enchantments: "Quickdraw", "Celerity", and "Mindmeld". Changed crafting costs and stat balance of various other enchantments.
The notification log now shows deaths-by-status effects so that monsters in players vision that bleed to death, succumb to poison, or touch an "Essence Conduit" result in a notification.
Removed reduced energy recovery from Frostbite wound.
Updated medicine item Soothing Balm to also cure sunscorch
Rebalanced potion prices.
Added new lore book "Dreamer's Tryst with the Ether".
Removed stat "Tenacity Resist". In all places "Tenacity Resist" was used, replaced with "Stun Resist", and "Knockback Resist". This stat was originally intended to do what warding now does (and did not work correctly).
Bug Fixes
Fixed text-wrapping issues in the notification log. Lines of text too long to fit now wrap to a new line.
Fixed issue with drop down menus, where clicking an item in a drop down menu would sometimes select the UI element below the drop down menu.
Implemented more robust handling of zone state changes. This fixes issues, related to quickly changing zones or reloading the game.
Fixed UI scaling not working during character creation.
Oct 2, 2023
Patch Notes - v0.5.1b
---
Bug Fixes
Fixed crash when destroying Gremlin Totem Poles as a Knight.
Fixed Altar of Ahnais dispensing more XP than intended.
Fixed loop in Gremlin's Grief quest causing endless couriers.
Fixed crash when interacting with power crystals while Tangled Web quest is active.
Fixed Gremlin Grief quest initiating when a creature kills a decay root off-screen, instead of the player.
Fixed crash when player attempts to move beyond map boundaries use keyboard movement.
Fixed Gremlin potion mechanics:

Removed auto-learning of gremlin recipes.
Added potion recipes to alchemy shelves in Gremlin Fortress.
Introduced crafting requirements for Gremlin potions; Mudmilk has none.
Tweaked drop table for Gremlin alchemy shelf.

Fixed Potent Purifying Elixir negating its own status effect.
Fixed recipes not highlighting as craftable in menus when alternative crafting options exist.
Fixed XP reward glitch for crafting Snake Dice, Machinist Ring, or Machinist Amulet.
Oct 3, 2023
Patch Notes - v0.5.1c
---
Bug Fixes
Fixed crash refreshing quests when leaving the inn.
Fixed Altar of Ahnais statue health bonuses lost on save.