January 16, 2023
Patch Notes - v0.4.9
---
Unarmed is a new combat mastery skill focused on fast attacks, building up momentum, and devasting finishing blows.
Save files from v0.4.8 ARE compatible.
Unarmed
Attack any enemy with both hands empty to discover this new skill. Experience is gained through combat the same as with weapons.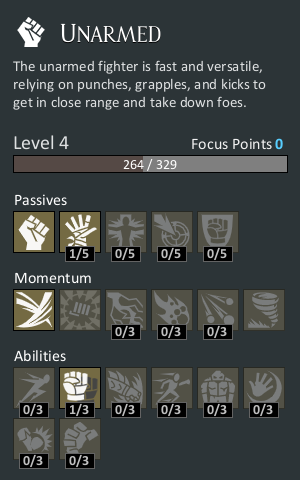 Added 9 unarmed active abilities and 10 passive abilities.
Added new mechanics to support unarmed abilities:

Shield - Gain shield to absorb incoming damage. Shield is shown as blue on the health bar and automatically degrades 1 per turn.
Disarm - When an item is successfully disarmed it falls to the ground and can be picked up. Disarmed enemies have their stats reduced equivalent to whatever bonuses that item gave.
Confusion - Confused targets have a 50% chance for basic attacks to target a random other adjacent enemy, even hitting allies!
Momentum - Momentum is unique to Unarmed combat. Gain stacks to unlock bonuses, or consume your stacks for a finishing blow.
Unarmed is intended to be difficult early (you are fighting unarmed against weapon wielders after all), but to become increasingly rewarding with more levels and specialization. That said, we are looking forward to user feedback. There's a lot of new abilities in this skill so it's likely further balancing is needed.
Note that the Brawler will eventually receive a unique skill called "Brawling" which is intended to layer well with Unarmed. Likewise for Oosh, Warrapt, and other upcoming skills. For this reason Unarmed is meant to be viable as a solitary combat skill, but also to layer well with other skills.
Other Changes
Immobilized targets are now shown with a brown circle on the ground indicating they immobilized.
Bug Fixes
Fixed unable to continue on the dream page, due to the continue button being not clickable, or if the content is too large and pushing the button off screen.
Fixed chivalry ability "Bravery" not applying immediately when moving into 2 or more enemies at end of turn (previously this ability only check at start of turn).
Fixed weapon masteries not being discovered when attacking a neutral target, such as rats which are by default neutral until they decide to attack.